We have a siamese cat and a border terrier.  They were our first babies.
The cat, Abby, is a "daddy's girl" which is so funny because he didn't want a cat – AT ALL.  She is a piece of work.  I probably know what you are thinking: "Siamese cats are mean".  Nope, you're wrong.  I am not a crazy cat person, but our cat is anything but mean.  She is sweet and gentle and very vocal.  Yes, she can be a HUGE pain in the you-know-what, but we still love her!  She is great with Dylan!  FOR REAL.  She stays far enough away from  him to make sure he can't yank her tail, but close enough to watch everything he does – like a little mommy – and when he has gotten a hold of her, she has never even come close to scratching or bitting him.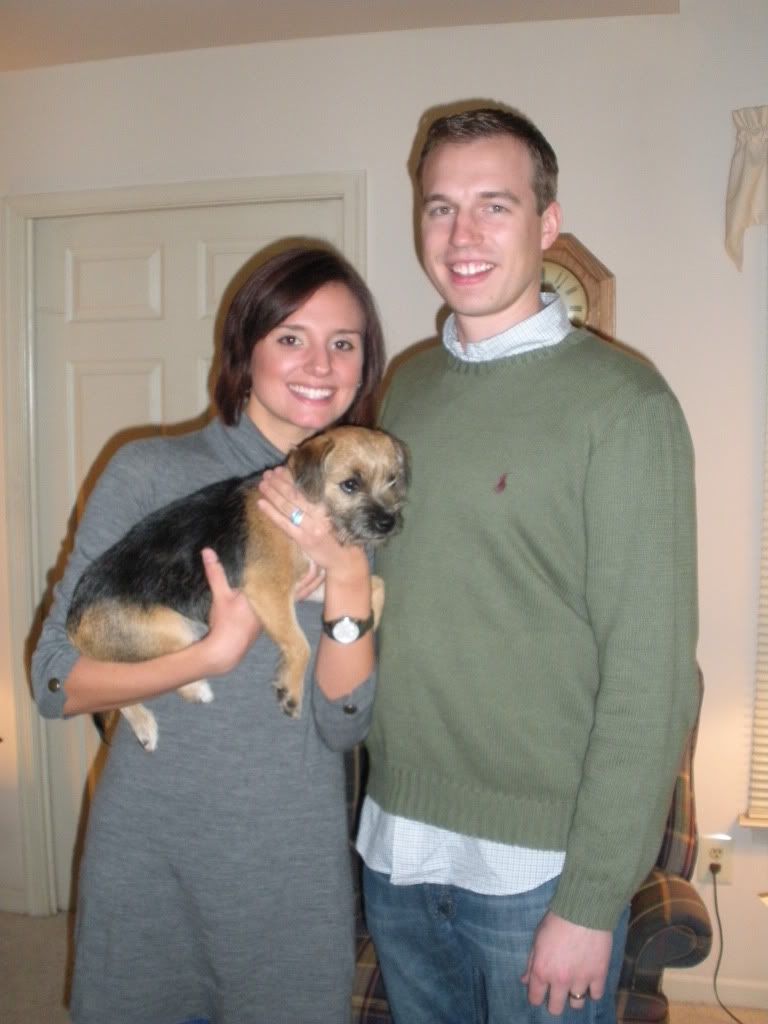 The dog, Rue, is our toddler.  She is really high energy and fun.  She is a little too smart which gets her into trouble sometimes, but she loves us and she loves the baby SO MUCH.  She's still figuring out her new role in the family now that she is not the baby anymore (yup, we made the mistake of treating her like a person… she doesn't think she's a dog).  She's not used to getting in trouble, so she now does things she never used to do, like getting into the garbage, peeing and pooping inside, and destroying things we leave within her reach and then freaks out and hides when I yell at her.  I feel bad for her, but I don't know what to do to help her adjust.  Should I take her to training?  I try to make sure I get out for runs with her still so she doesn't have pent up energy, but it's definitely harder to find the time now.
Also, I finally just got her hand stripped (groomed) the other day.  She was VERY overdue!  I tried to contact someone from the Border Terrier Club of America, but I think she decided I wasn't worth her time when I took too long to contact her and then blamed my baby brain (dog breeders can be a little snotty).  So, I found a place nearby and they did a great job, but they are expensive, in the GHETTO (she locks the door and you have to ring the bell to get into the building and there are bars on the window), and I have NO intention of going back there with my baby.  So I have no idea what I am going to do in 3-4 months from now when she will be due again.  Oh well, time to start researching some alternatives!
Here are some more pictures of our fur babes: