So I haven't written in a while… about a week and a half to be exact.
I never used to be the kind of person who dealt with stress by bottling it up, but since becoming a mother that's changed.  I wonder if how we process fear and stress is more instinctual or nurture based; what do you think?
My parents each deal with fear and stress in very different ways and so do my sister and I, so I tend to lean towards instinctual more than nurture.  I also think that my change in behavior serves as evidence for the instinctual argument.  I think it makes sense that a mother would bottle more things up in an attempt to protect her offspring from the same fear and/or stress.
In any case, our life has been both hectic and extremely stressful for the past few months (since we put our house on the market and moved).  I've mentioned it before, but we are pretty financially stretched right now because the house still hasn't sold.  We have been under contract once, which fell through, and are now under contract again, but the ground is still shaky on this one.
I haven't wanted to write about it because I don't really want to think about it, but, if I'm being honest with myself, I have to admit that I'm already thinking about it 24/7, so I may as well write about it!
I also have not been great about taking care of myself.  I have changed my habits as far as getting up before the baby and getting ready for the day which has helped keep me more active and I have been trying to watch what I eat, but have not been calorie or point counting.  I convinced myself that after about a year on weight watchers (ending a little under two years ago), I already know how to eat.
That's true.  I do know how to eat, but I conveniently forget about certain "little" items I eat here and there when I'm not tracking.  It's amazing how just keeping a food journal can make a difference in what you eat!
I mean, if you just make a point of writing down the name of every food you put into your body in one day, chances are, you'll skip the unnecessary foods because you won't want them "on your record".  This is especially true if you know someone will be checking your list.
When I was pregnant, I decided to give birth at the local free-standing birth center (they were literally across the street from a hospital, but not hospital run).  They had a midwife there who was researching the reasons for hospital transfers among laboring women, and had found that, in many cases, the women had gained excess weight.
In any case, every woman who planned to give birth at the birth center was asked to keep a food record for one week so the midwives could assess her food "personality" and provide nutrition advice if necessary.  Needless to say, I was on my best behavior that week because I didn't want to lie, but I didn't want to any of the midwives to see a daily trend of excess junk food.
With that in mind, I have started a food journal and assigned an accountability partner (my husband) to check it.  I am also starting Weight Watchers.  I lost more than 20lbs on WW 2.5 years ago and it is the only diet plan that has really worked for me.  I do the online tracking, so there are no weekly meetings to motivate me.  This was true last time too, but last time I had a friend who was training for a triathlon at the same time… I'm a competitive person… enough said 🙂  So this time, I'm hoping my accountability partner will keep me motivated!
I have also decided to finish my yoga alliance 200 hour certification through Corepower Yoga.  I am not yet sure how that is going to work now that I live no where near a Corepower Yoga studio, but I plan to find out and will keep you posted on my progress!
As for pictures: I posted a family picture from Halloween in the pictures section and here is a picture of me and my baby boy!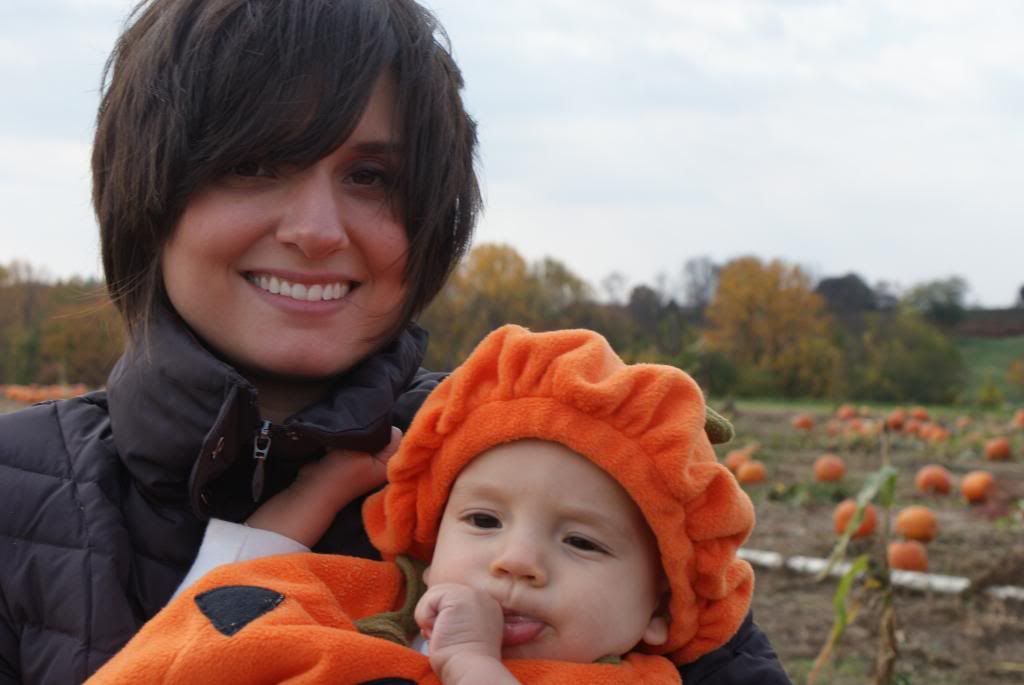 As for a funny mama story:  Dylan doesn't have much drama at the ripe ole' age of 10 months, BUT he does adorable things.  This weekend, I was jumping around, being a goof, dancing to a kids song and Dylan pulled himself up to standing, using the couch, and started rocking and bouncing and had a HUGE smile on his face!  I wish I caught that with the video camera!